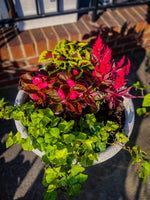 Our Story
At Paint By Flowers, we believe that flowers open you up to a world of healing, beauty, and magic for your senses. We truly want you to stop and smell the roses.
Stocking only the highest quality products available, utilizing efficient and innovative design practices, we always strive to provide the best service for all your floral needs.
We are a super-cute and innovative flower shop located in Astoria, Queens, NYC. We love our neighbors and enjoy engaging with our community.
We are also proud to announce we currently accept CRYPTOCURRENCY for payment!
Paint By Flowers will always have what you want, what you need, what you never expected and always striving for in inspiration, practice and style.
Our Services include: 
Landscaping
Weddings
Flowers for all events
Sympathy Services
Floral Art Installations
Holiday Observations
We offer premium items and flower delivery in NYC
We are also a dog-friendly establishment